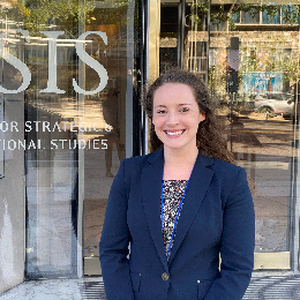 "You too were born to make the world a better place, so put your talents into good use"
Gift Gugu Mona
Sierra Ballard is a research assistant for the Humanitarian Agenda at the Center for Strategic and International Studies (CSIS). Her research specializations include conflict resolution and peacebuilding, international human rights law, and humanitarian protection. Sierra previously worked as a research intern with the CSIS Project on Fragility and Mobility and an associate consultant executing IDS contracts managed by the U.S. Agency for International Development's Global Development Lab. 
Ms. Ballard also worked in Brussels as a research trainee for GLOBSEC on the promotion of CEE European integration and as a national representative for the NextGen Climate advocacy group. She holds an advanced MSc in international relations and diplomacy from Leiden University, where she studied international negotiations and conflict resolution under the Dutch Clingendael Academy, and a BA in political science from Iowa State University.